Held the second Saturday in August, the Adel Partners Chamber is proud to present the annual Adel Sweet Corn Festival! Welcoming thousands of visitors each year, the festival offers fun for the whole family and … free sweet corn!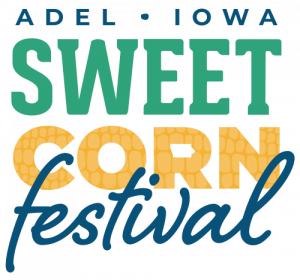 The 42nd annual Sweet Corn Festival was held on Saturday, August 14, 2021.  Fareway is the elite sponsor of the Sweet corn Festival presented by the Adel Partners Chamber. This year's event might look and feel a little different but rest assured, some of your favorite activities will continue and new ones may be added.
43rd Annual Sweet Corn Festival is scheuduled for August 13, 2022.  Make plans to attend.
Stay up to date with the latest information on our Adel Sweet Corn Festival Facebook page.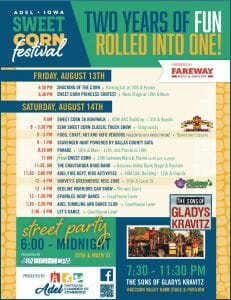 Thank you to our presenting sponsor. Without the generosity of many sponsors and volunteers this wouldn't be possible. Want to volunteer? Be sure to join us Friday, August 13 for the annual shucking of the corn. We'll start at 4:30 p.m. near the Adel Fire Department building.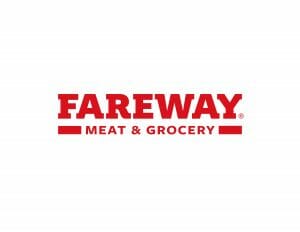 The Sweet Corn Festival offers fun for the whole family. While most activities take place around our courthouse square, more fun can be found at the Dallas County Fairgrounds. You can enjoy the: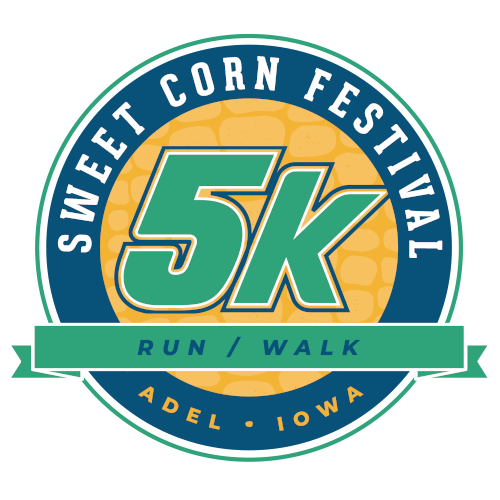 aking place along the scenic brick streets of Adel, join us for a beautiful run (or walk) through our wonderful town. Then stick around to enjoy the fun and festivities of the Sweet Corn Festival.
The 2021 5K proceeds will benefit the Adel Partners Chamber trail committee for future projects and trail improvements. The race will begin at 8 a.m.  Awards are offered by age group.
Registration is $25 until July 20, 2021 and includes a t-shirt. To register, visit: https://runsignup.com/Race/IA/Adel/AdelSweetCornFestival5K.
On-site registration will take place August 14 prior to starting time.
Strollers and wheelchairs are permitted on the course, dogs are allowed for medical reasons only.
View the Adel Sweet Corn Festival 5K course.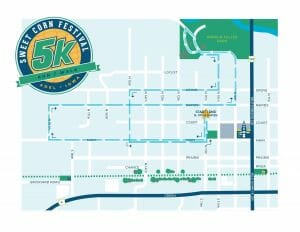 The generosity of more than 65 volunteers make this run possible each year. To volunteer, visit https://runsignup.com/Race/Volunteer/IA/Adel/AdelSweetCornFestival5K.
Get the latest updates and information by following our Adel Sweet Corn Festival 5K page on Facebook.
Interested in sponsoring the Adel Sweet Corn Festival 5K? Send us an email.
Sweet Corn Festival Parade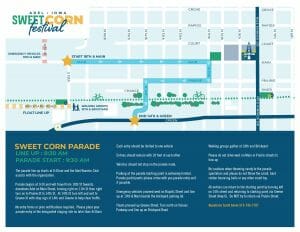 Join us for Dallas County's largest parade! Beginning annually at 9:30 a.m., you and your family can enjoy floats, entertainment, candy and goodies from many local businesses, clubs and more.
See the parade route and arrive early to save your spot.
Want to participate? Early registration is not required. Please plan to arrive and lineup at the brickyard in Adel at 8:30 a.m.  Enter to secure your spot in line at Greene and 18th Streets.
Free Entertainment and Street Party
Each year, the Sweet Corn Festival offers a variety of entertainment fit for the whole family. Free concerts are held throughout the day at the Raccoon Valley Bank Stage and Pavilion just off the Adel square. You can also catch many local acts and talents, including dance studio performances and local musical acts, performing along the south side of the courthouse following the parade.
A street party is held to conclude the festival beginning at 6 p.m. and ending at midnight.  Open to all ages, the street party offers live music and entertainment. For those over the age of 21, drink tickets can be purchased. Drinks must be consumed within the designated street party area.
Each year, the Sweet Corn Festival offers dozens of arts, crafts and informational booths around the Adel courthouse square. Here you can find all kinds of handcrafted items, toys and more. You can also grab a bite to eat or enjoy a cold treat from one of our many food and beverage vendors.
Interested in becoming a vendor? Please complete the registration form prior to May 1 for consideration in the 2021 Sweet Corn Festival.
Held for nearly a decade, the annual Bags Tournament begins at 11:30 a.m. at the former middle school location, 215 N. 11th Street. A fundraiser for the St. John's Knights of Columbus, there is a $30 entry fee with prizes awarded for first, second and third place. Registration can occur in person prior to the starting time. Early registration can be completed through emailing Chamber@adelpartners.org
Sweet Corn Princess Pageant
Held the Friday evening prior to the Sweet Corn Festival, the Sweet Corn Princess pageant offers girls in second, third and fourth grades the opportunity to be crowned Sweet Corn Princess and a ride in the parade.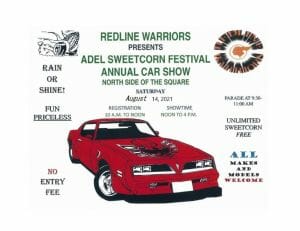 Thank you to the many sponsors and volunteers who make this possible.